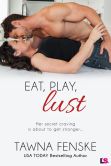 NOW AVAILABLE - AN ENTANGLED PUBLISHING LLC E-BOOK
ABOUT: "
Cami Pressman is a yoga instructor with a lifelong secret love of junk food. Not even an irresistible man can replace the mouthwatering wickedness of her favorite foods.Until, that is, Paul Hammond signs up for her class. He's a gourmet chef looking to score some fitness tips, and a date with Cami. Suddenly Cami's lust for junk food isn't the only thing making her tingle.When this sinful chef and hot yoga teacher eat, play, and lust together, they just might bring their obsession to a new level."
REVIEW:
This book was a quick read(I read it in an hour) but packs just as much punch as a book twice as long. It's worth the price. I've been a huge fan of Ms. Fenske's for years- in fact I wish she'd write faster! This book was pure fun and packed with Ms. Fenske's trademark humor, and great characters. She has a way with words and this book put a smile on my face. It also made me hungry! TOTS RULE!