BOOK CLUB THURSDAYS- SPOTLIGHT- WANTED HOLIDAY ROMANCE
I love this time of year of various reasons. One being all of the Holiday Romances/Books that come out.
Some years I find more than a handful to buy, others it's a bit less. Some years I even re-read a favorite one.
This year I am looking forward to reading: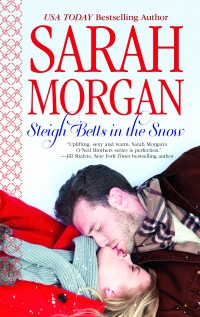 OUT NOW! BOOK ONE IN A NEW SERIES!
ABOUT THE BOOK:
USA TODAY bestselling author Sarah Morgan heats up the season with the O'Neil brothers in a brand-new holiday series!

Once upon a time, Christmas was Kayla Green's favorite time of year. Now all the workaholic wants for Christmas is for it to be over—as fast as possible! So when duty calls her to snowy Vermont to close a deal with a new client, Kayla is grateful for an excuse to avoid the holidays for another year.

Jackson O'Neil left a thriving business behind to return home and salvage his family's resort—it's in his blood, and he can't let it fail. Now that he's got marketing whiz Kayla Green working with him to put Snow Crystal on the map, success is on the horizon. The fact they strike enough sparks off each other to power all the Christmas lights in Vermont is just an added bonus.

Kayla might be an expert at her job, but she's out of her depth with Jackson—he makes her crave the happy-ever-after she once dreamed of, and it's terrifying. As the snowflakes continue to swirl, will the woman who doesn't believe in the magic of Christmas finally fall under its spell?
EXCERPT:
FROM CHAPTER ONE
Kayla Green cranked up the volume on her favorite playlist and blocked out the sound of festive music and laughter wafting under her closed office door.
Was she the only person who hated this time of year?
Surely there had to be someone out there who felt the way she did?
Someone who didn't expect Christmas to be merry or bright?
Someone who knew mistletoe was poisonous?
She watched gloomily as soft snowflakes drifted lazily past the floor-to-ceiling glass windows that made up two sides of her spacious corner office. She hadn't been dreaming of a white Christmas but it seemed she was getting one anyway.
Far below, the streets of Manhattan were jammed with tourists keen to enjoy the festive sights of New York in the holiday season. A giant spruce twinkled in front of the Rockefeller Centre, and the Hudson River glinted in the distance, a ribbon of silvery-gray shimmering in the winter light.
Turning her back on the snow, the tree and the glittering skyscrapers of Midtown, Kayla focused on her computer screen.
A moment later the door opened and Tony, her opposite number in Entertainment and Sports, appeared carrying two glasses of champagne.
She unhooked her headphones. "Who the hell is picking the music out there?"
"You don't like the music?" The top button of his shirt was undone and the glitter in his eyes suggested this wasn't his first glass of champagne. "Is that why you're hiding in your office?"
"I'm searching for inner peace but I'd settle for outer peace so if you could close the door on your way out, that would be perfect."
"Come on, Kayla. We're celebrating our best year ever. It's a British tradition to get drunk, sing terrible Karaoke and flirt with your colleagues."
"Who told you that?"
"I watched Bridget Jones's Diary."
"Right." The music made her head throb. It was always the same at this time of year. The tight panicky feeling in her stomach. The ache in her chest that didn't ease until December 26th. "Tony, did you want something? Because I'd like to keep working."
"It's our office party. You cannot work late tonight."
As far as she was concerned it was the perfect night to work late.
"Have you seen A Christmas Carol? Or read the book?"
A glass of champagne appeared on the desk in front of her. "I'm guessing you're not Tiny Tim in this scenario, so that makes you either Scrooge or one of the ghosts."
"I'm Scrooge, but without the tasteless nightwear." Ignoring the champagne, Kayla glanced through the doorway. "Is Melinda out there?"
"Last seen charming the CEO of Adventure Travel who has been looking for you all evening so he can thank you personally for the incredible year their company has enjoyed. Bookings are up two hundred percent since you took over their account. Not only that, you got his picture on the cover of TIME Magazine." He raised his glass and his mouth twisted into a smile. "Until you arrived in New York, I was the golden boy. Brett used to give me tips on how to be the one on top. I was all set to be the youngest vice president this firm has ever appointed."
Alarm bells rang in her head. "Tony—"
"Now it's likely that accolade will go to you."
"You're still the golden boy. We work in separate divisions. Could we talk about this tomorrow?" Kayla delved into her bag for a report, wishing she could push herself inside and snap it shut until January. "I'm really busy."
"Too busy to nurse my ego a little bit?"
She eyed the champagne. "I've always believed people should be responsible for their own egos."
He gave a low laugh. "Coming from anyone else I'd assume there was innuendo in there, but you don't do innuendo, do you? You don't have time for it. Just like you don't have time for parties or dinner or drinks on the way home after work. You don't have time for anything except work. For Kayla Green, Associate Vice President of Tourism and Hospitality, it's all about the next piece of business. Do you realize there's a bet going in the office as to whether you sleep with your phone?"
"Of course I sleep with my phone. Don't you?"
"No. Sometimes I sleep with a human, Kayla. A hot, naked woman. Sometimes I forget about work and indulge in a night of really incredible sex." His eyes were on hers, his message unmistakable and
Kayla wished she'd locked her office door.
"Tony—"
"I'm probably about to make a giant fool of myself, but—"
"Please don't." Deciding she might need both hands, Kayla gave up looking for the file. "Go back to the party."
"You are the sexiest woman I've ever met."
Oh shit.
WANT TO WATCH THE TRAILER?
ABOUT THE AUTHOR:
USA Today bestselling author Sarah Morgan writes hot, happy contemporary romance and her trademark humor and sensuality have gained her fans across the globe. She has been nominated three years in succession for the prestigious RITA© Award from the Romance Writers of America and has won the award twice, in 2012 and 2013. RT Book Reviews has described her as 'a magician with words' and she won their Reviewers' Choice Award in 2012 as well as making numerous appearances in their 'Top Pick' slot.

As well as writing for Harlequin Presents, her first full length novel, Sleigh Bells in the Snow will be published by HQN in October 2013 and Ripped, her first title for the Cosmo Red Hot Reads from Harlequin program will be out in November 2013.

Sarah lives near London with her family, and when she isn't reading or writing she loves being outdoors, preferably on vacation so she can forget the house needs tidying.
AUTHOR WEBSITE:
http://sarahmorgan.com/
MY REVIEW:
Shhhh........
Not yet!
Besides I haven't read it....YET! I don't read any Holiday books...okay maybe one or two in July...until Turkey Day.
But I can't wait. Especially after viewing the trailer and holding the book in my hands. But I don't want to be on Santa's Naughty List. So like a good girl I'm going to wait. But it's going to be a long two weeks! And I'm even more excited because I almost missed this book when I was putting my list together.
So check back at the end of the month for my review!
WANT TO KNOW WHAT WANTED HOLIDAY BOOK IS ON MY BEST FRIENDS LISTS?
Visit their blogs:
Ann- Romancing The Readers
Karen- The Many Faces of Romance